SEC UK
SEC UK is a division of Shield Batteries and is based in the Leicester Battery Centre. SEC UK prides itself on the supply of the correct battery at a competitive price to meet customer requirements from a range of battery types and chemistries. SEC UK's engineering background means that they take both the application and design requirements into account to meet the desired specification and they can offer either "off the shelf" solutions or something more bespoke, including assistance with the design of battery packs and battery banks. SEC UK's expertise and experience ensures that you get the best possible advice to achieve the best Power Solution for your application. SEC UK has over 30 years' experience in the industry, with a wealth of experience in many battery chemistries.
SEC UK Brochure to Download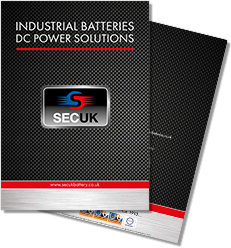 Summary of SEC UK Battery Range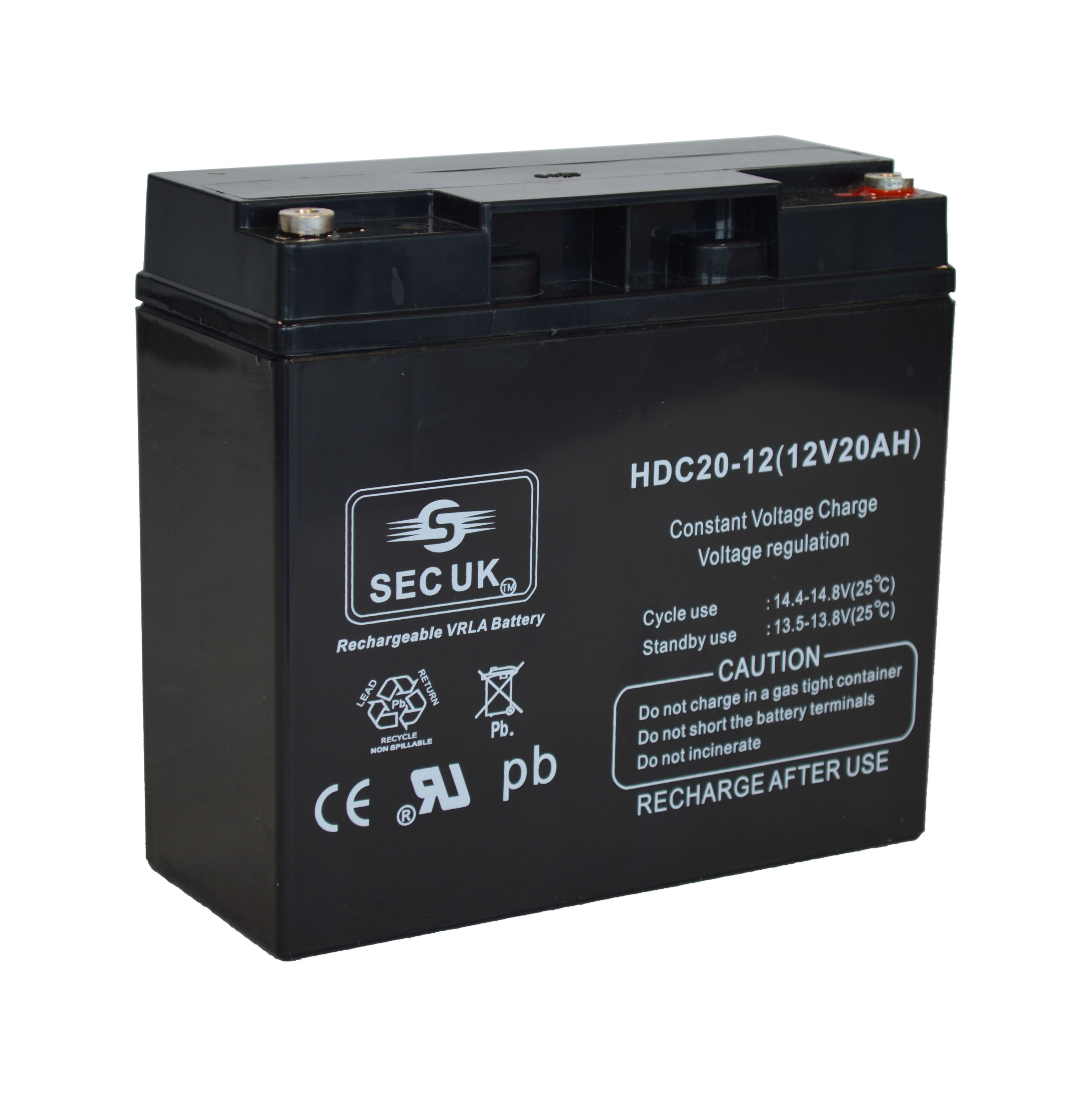 SEC UK HDC - High Deep Cycle/High Cyclic AGM Series
Our HDC series are AGM batteries that have been designed for cyclic applications, whilst maintaining all the added advantages of starved electrolyte" technology; fast charging, very low gassing, wide temperature range, high capacity per mono bloc, can be operated in any orientation and is offering a Design Life of up to 10 years at 20°C.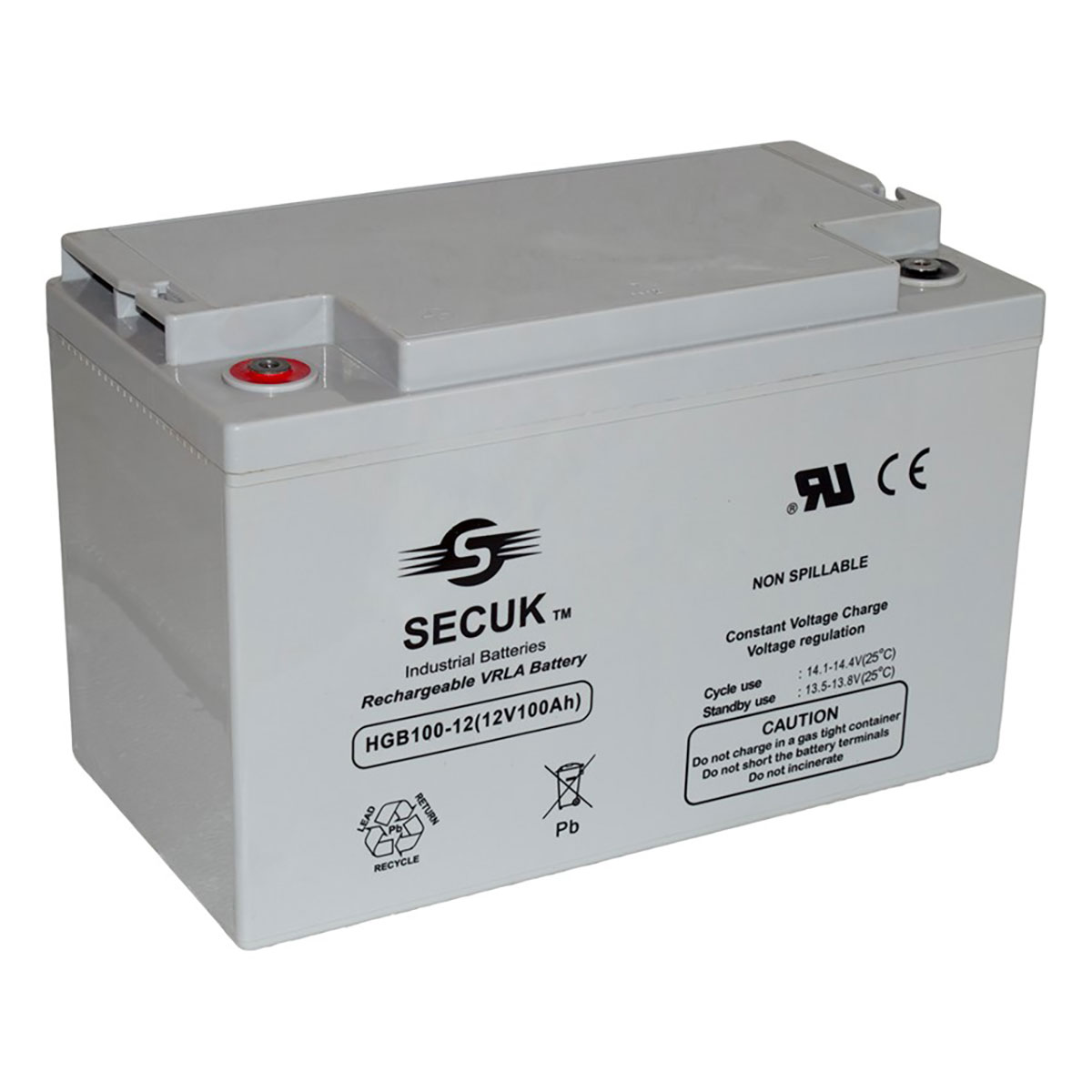 SEC UK - HGB - Deep Discharge/High Rate GEL Series
The SECUK HGB Pure Gel Battery has design features such as true thixotropic gelled electrolyte to improve cycling capability, offering deep discharge operations, high number of cycles, up to 30 days discharge protection and can be used in any position with a wide temperature range. With a design life up to 8 Years the HGB Battery is of robust construction where the electrolyte is suspended within a Silicon Gel, this holds the lead plates firm under any shock and vibration conditions. The HGB Gel battery incorporates valve regulation technology giving high cyclic capability, deep discharge characteristics and deep discharge protection, therefore these Gel batteries are highly suited for cyclic applications, critical energy and high discharge applications. SECUK Gel batteries best operate between temperatures of -30°C to +45°C.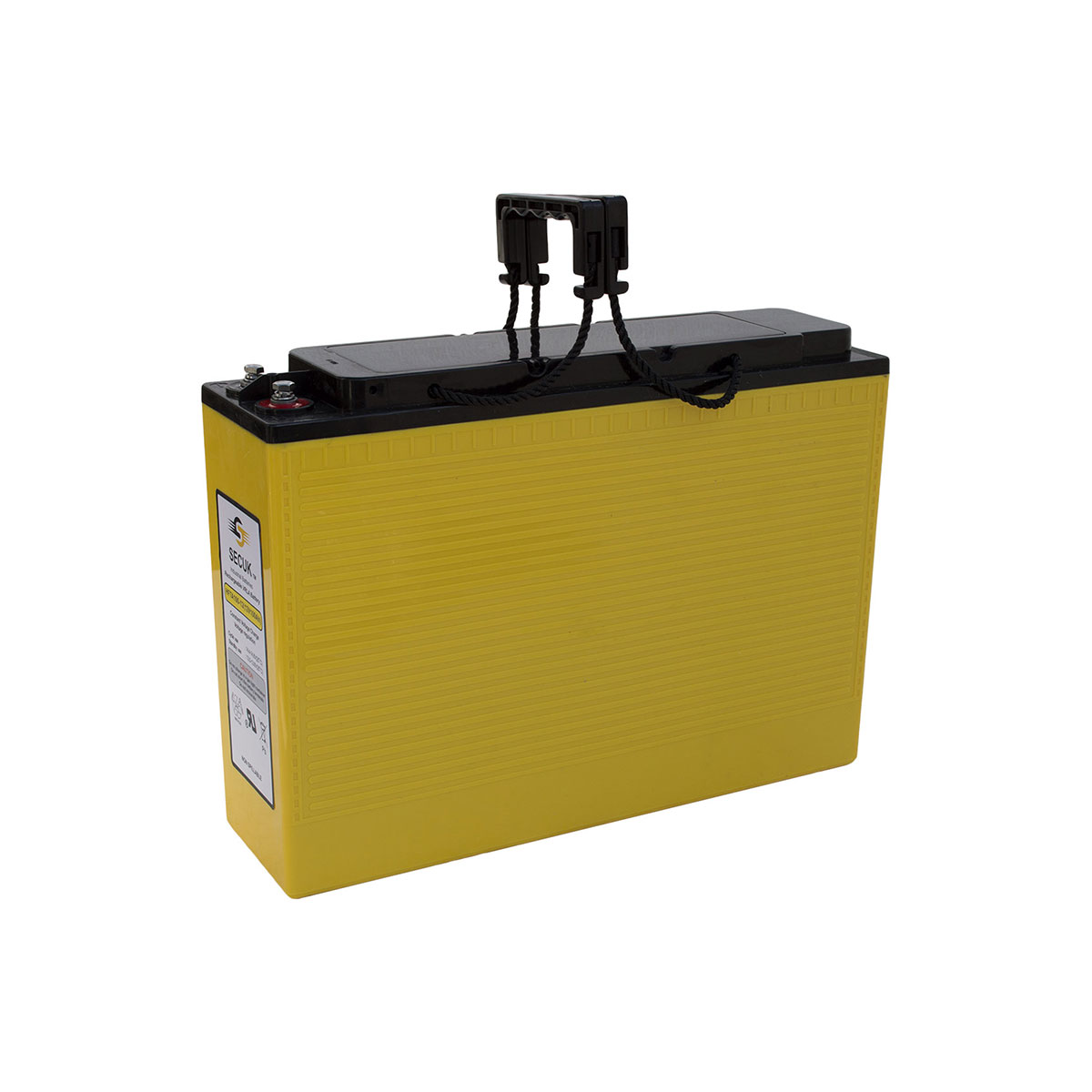 SEC UK - HFTA - Front Terminal AGM Series
The Front Terminal HFTA Series are AGM technology batteries with a terminal configuration designed for racks and cabinets. Robust copper terminals located at the front of the battery provide high conductivity, easy installation and low maintenance. Thick pasted plates with high quality High Tin Calcium alloy grids provide long operation life, up to 12 years Design Life, high rate discharge and fast recharge. Battery sizes are 12 volt ranging from 55 to 200 Ah and can be supplied in either ABS or Flame Retardant casing (V-0 casing upon request). Main application for this series includes Security, Telecommunications and Control Systems. These batteries operate between temperatures of -30°C to +45°C.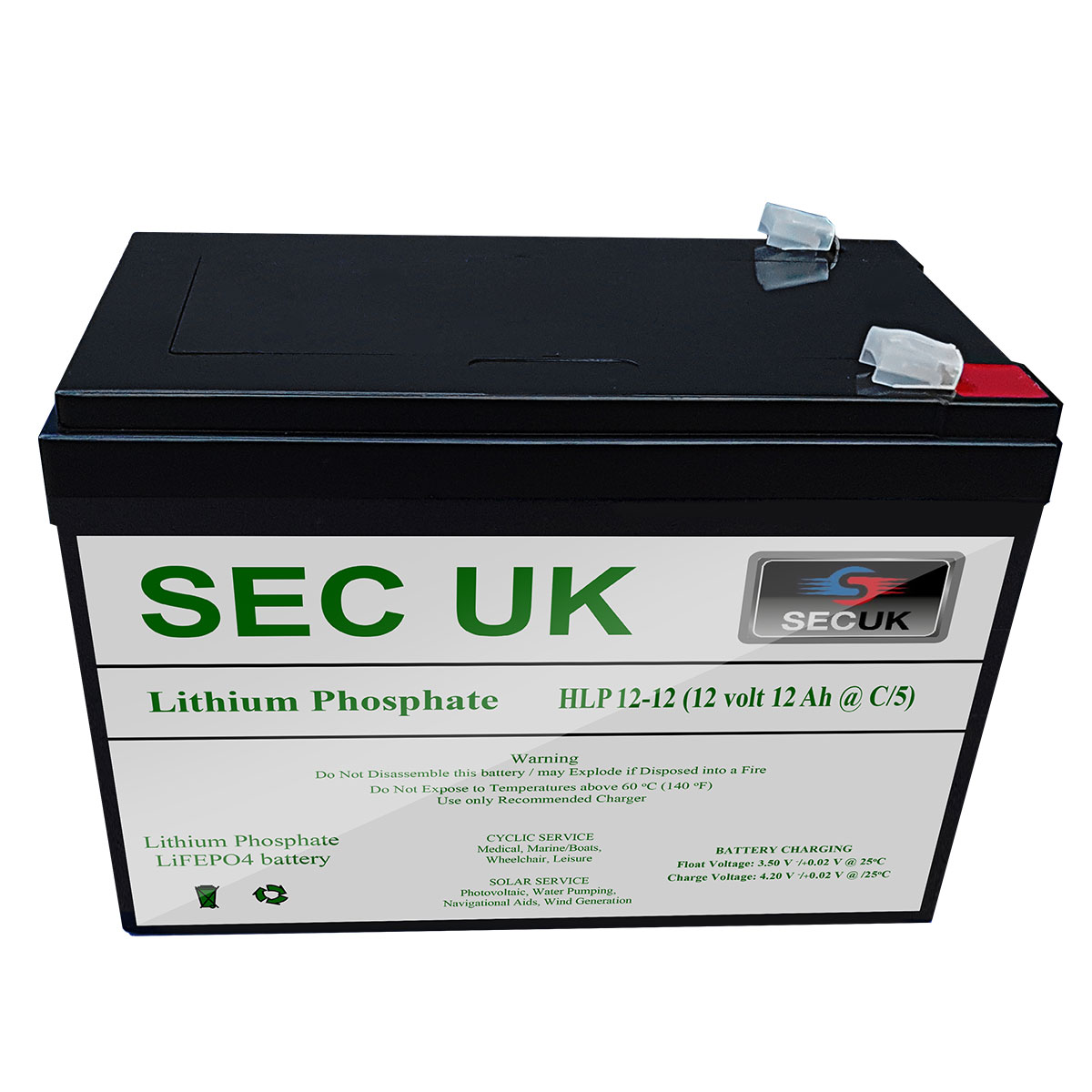 SEC UK - HLiPH - Lithium Battery Series
Lithium Phosphate Rechargeable batteries have characteristics that offer fast recharging, light weight mono blocs and battery solutions, wide operating temperature range, excellent cycling performance (up to 3000 cycles), low internal resistance, give high efficiency and a flat terminal voltage, therefore 100 % of the battery's capacity can be accessed. Our LiFEPO4 HLPH battery can be fully charged under a wide temperature range, to the 100 % point in a matter of a couple of hours using the correct charger or Solar System. SEC UK can design bespoke battery pack solutions or standard mono bloc batteries to suit all specifications, whatever the voltages and capacity requirements are. Applications include off-grid solar and/or wind, Leisure Market; where fast recharge time is important. The LiFEPO4 has an initial high cost compared to traditional battery types, but compensated by longer service life, superior reliability and excellent efficiency.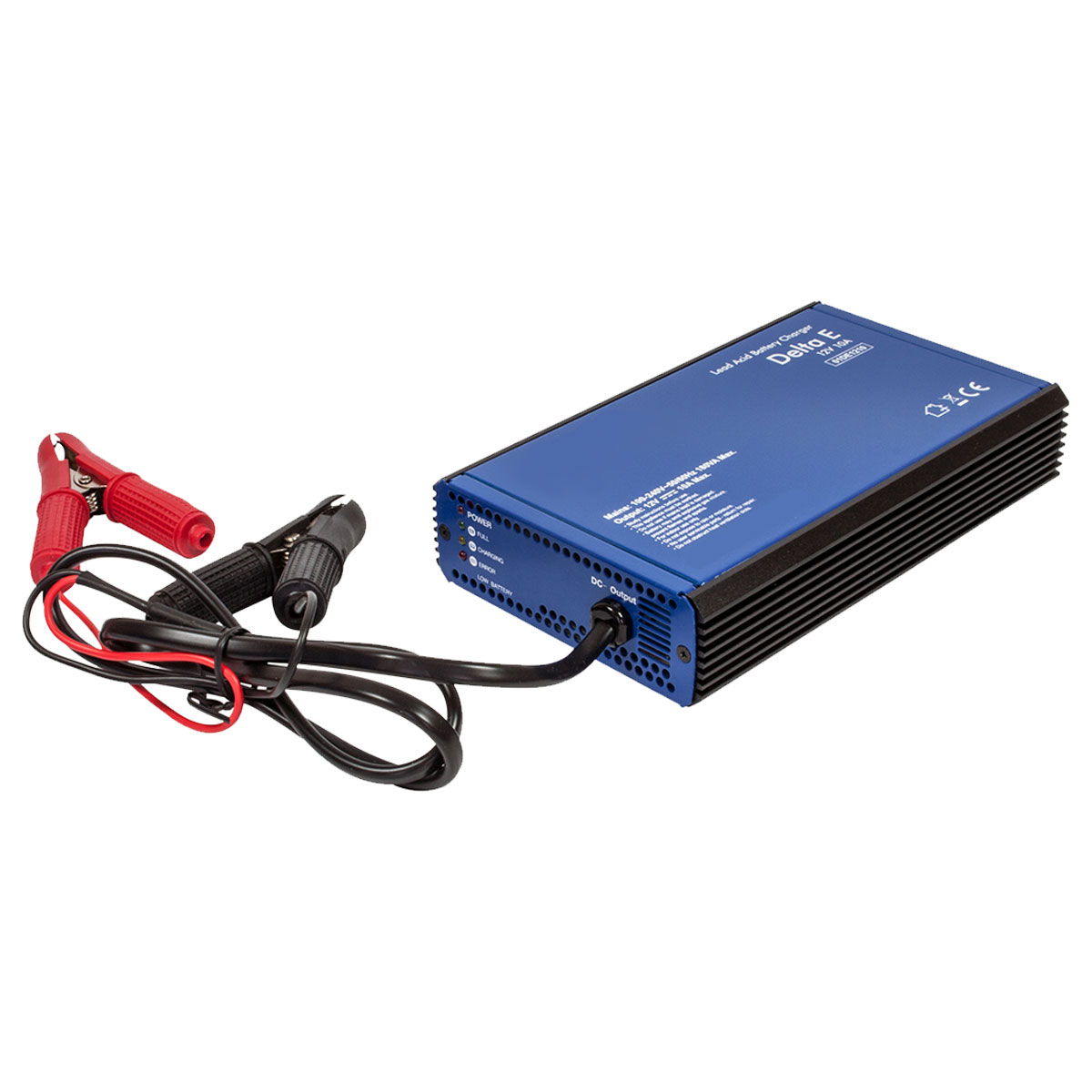 SEC UK Chargers
SEC UK offers a comprehensive range of quality industrial 3-stage battery chargers to compliment our full range of batteries: 6, 12, 24 and 36 nominal volt. The chargers are fully automatic, either Switch-Mode Solid State or Transformer Design, utilizing efficient multi stage charging. A microprocessor controls the charge current to maximum charge levels without damaging the battery, maintaining the appropriate charge current and voltage, optimising the battery's health whilst undergoing a full recharge of the battery when on boost followed by a Float charge. Smart technology charging prevents undercharging and overcharging of the battery, extending the life of the battery. All chargers are suitable for commercial, marine and domestic applications.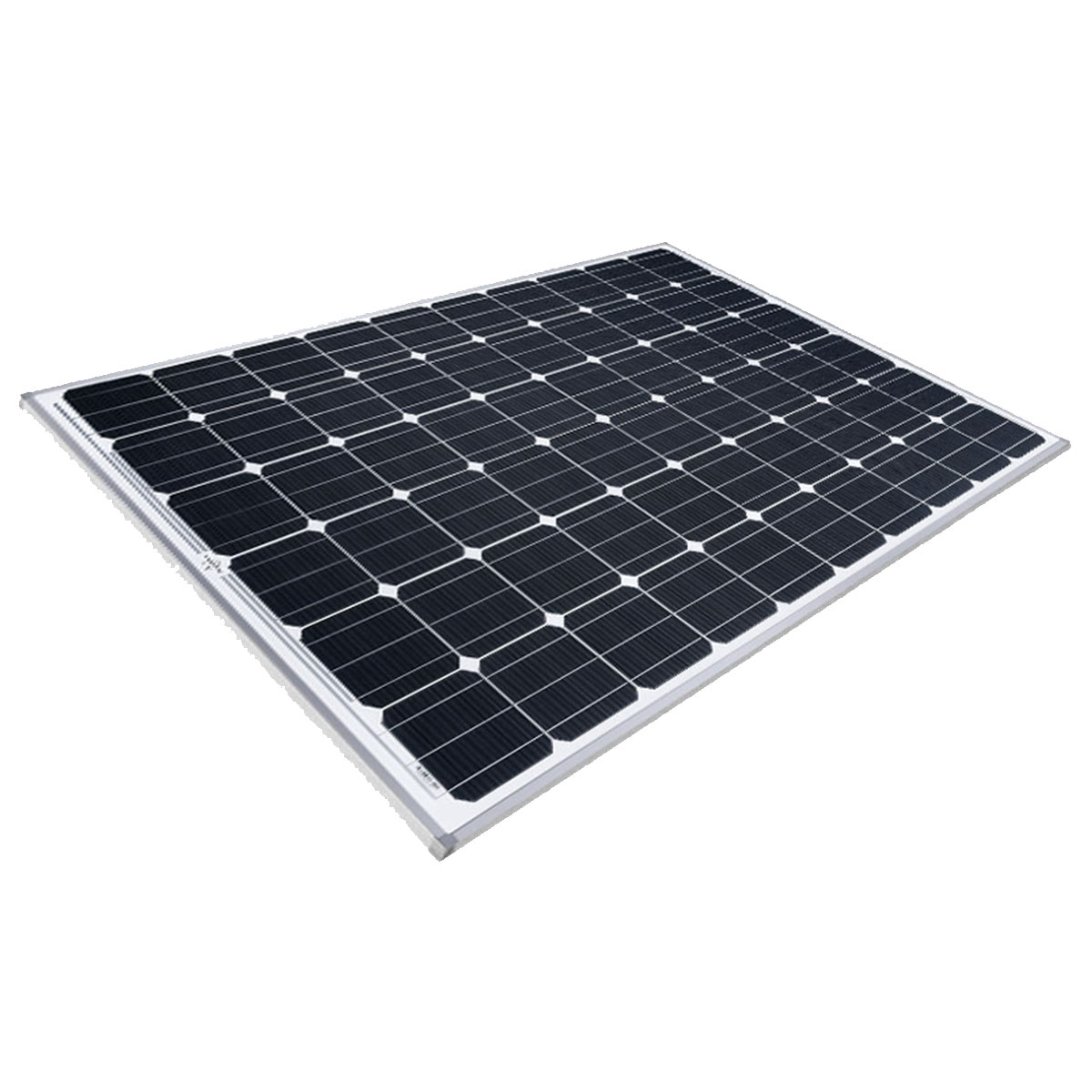 SEC UK Solar Products
Our ranges of Photovoltaic (PV) Solar Panels are manufactured to the highest quality, using a rigid aluminum frame and a glass front. The rigid PV solar panels are available in 12V (36 cell) and 24V (60 cell) using; - Polycrystalline, Monocrystalline or Thin Film Technology. The Output Power profile ranges up to 250 W, with the mid to low wattage range from 10 to150W. Rigid solar panels are widely used for leisure and professional applications involving 12 volt battery, using a Pulse Width Modulated (PWM) against using a Maximum Power Point Tracking (MPPT) Charge Controller to regulate the PV panel output voltage; - 12 & 24 volt, 10, 20 & 40 Amp output.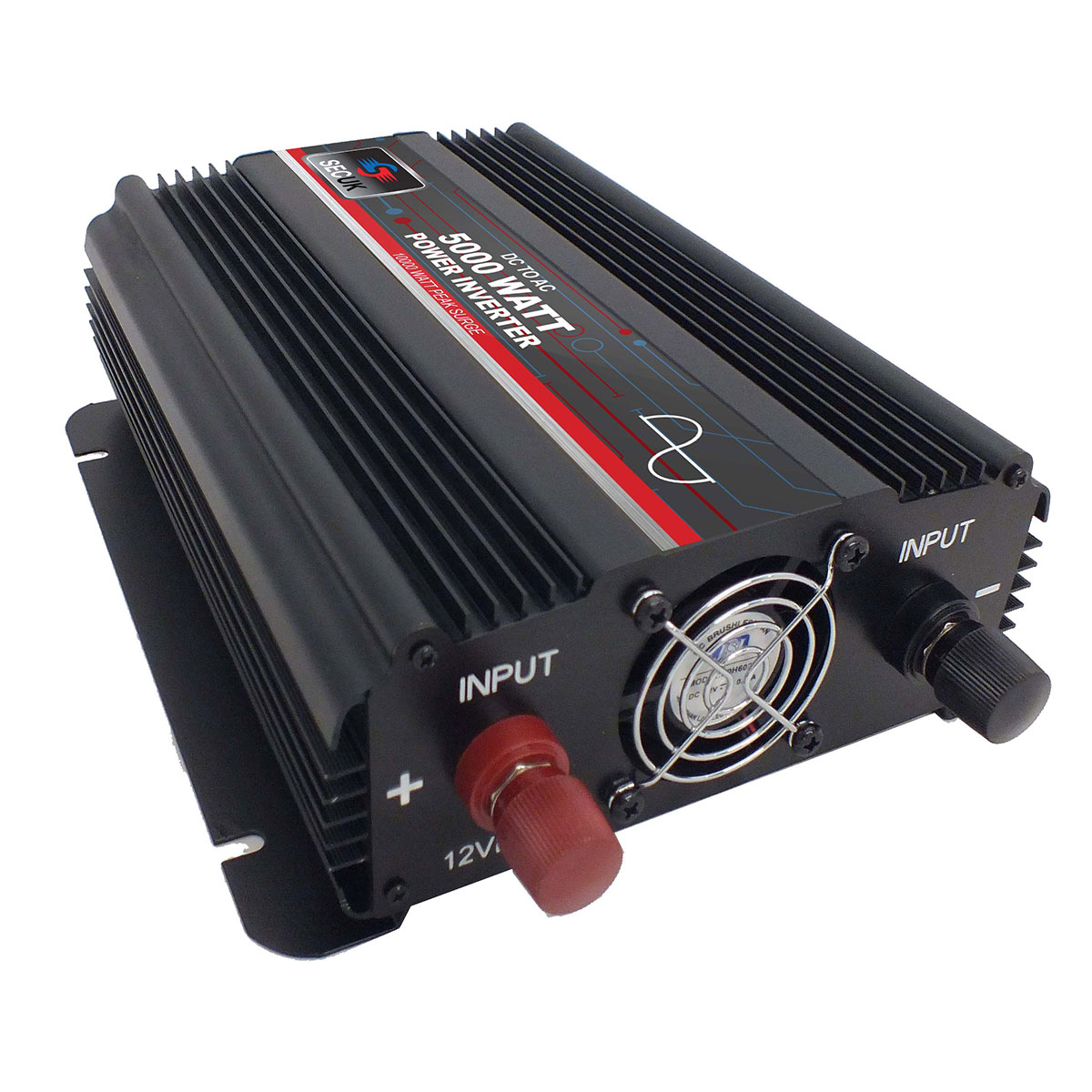 SEC UK Inverters
A power inverter, converts DC voltage to a usable 230 volt AC supply delivering the power you need to run your equipment, using a multiple-step sinusoidal AC waveform to deliver an AC supply. SEC UK offers two quality, low noise, high efficiency, High Power factor types: - Modified Sine Wave Inverters (MSW) ranging from 500 to 5000 watts and Pure Sine Inverter Wave (PSW), offering much less distortion than the "modified sine wave" allowing you to use inverters with sensitive electronic equipment on applications or where AC motors, are involved.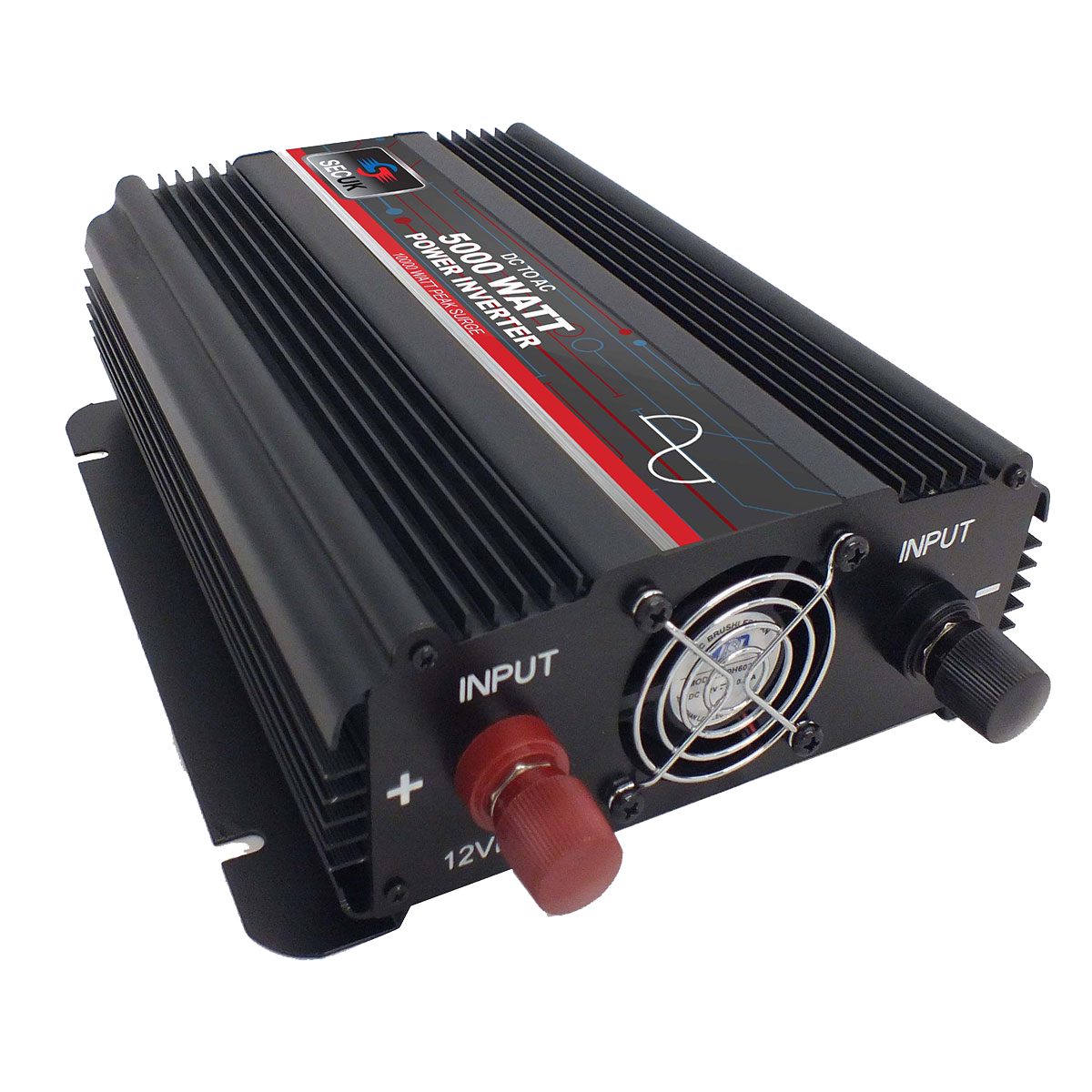 Industry
Aerospace
Network Rails
Fire & Security
Health & Mobility
Gas & Oil Industry
Renewable Energy
Telecommunications
Sport and Recreation
SEC UK takes its Corporate Social Responsibility seriously and will offer not only a recycling service but will guide companies and establishments in setting up their own recycling procedure should they wish.