About Victron
Chargers
Inverters
Controllers
Batteries
DC Converters
Transformers
Examples of systems Victron can offer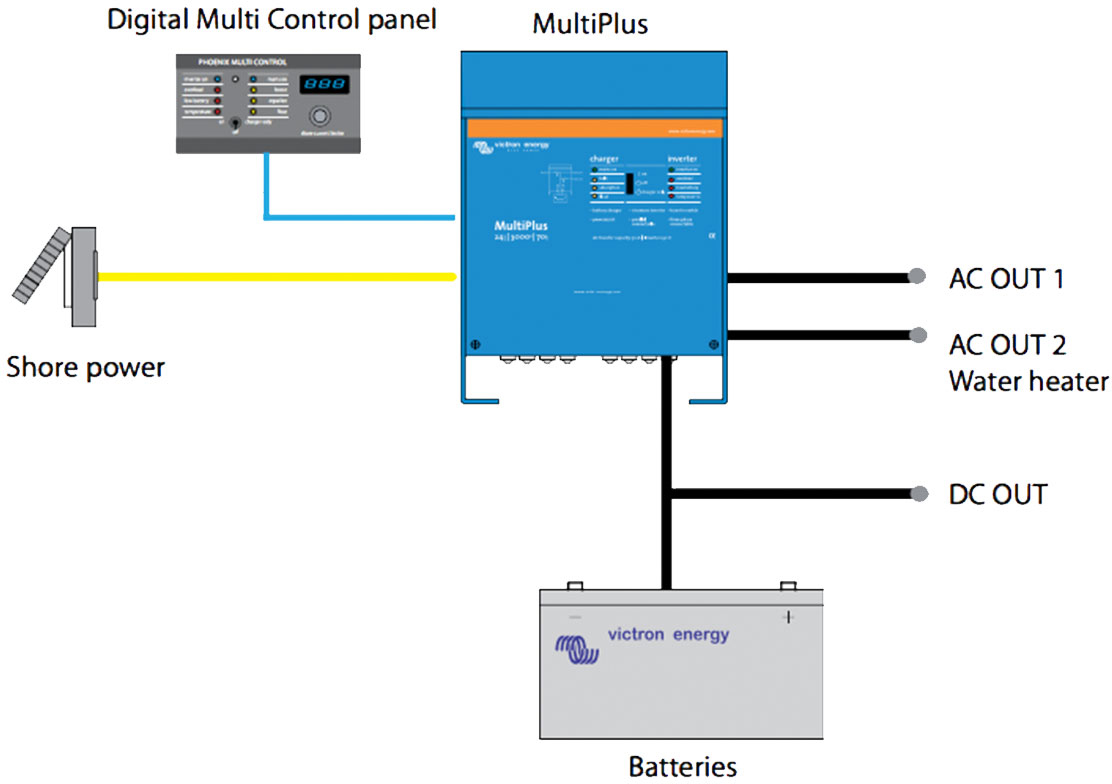 Marine System Multi-functional
The MultiPlus is a charger and inverter in one. It can function as a UPS (Uninterruptable Power Supply) to ensure power supply when the input power source fails. The MultiPlus also o ers several other functional advantages such as PowerControl and PowerAssist.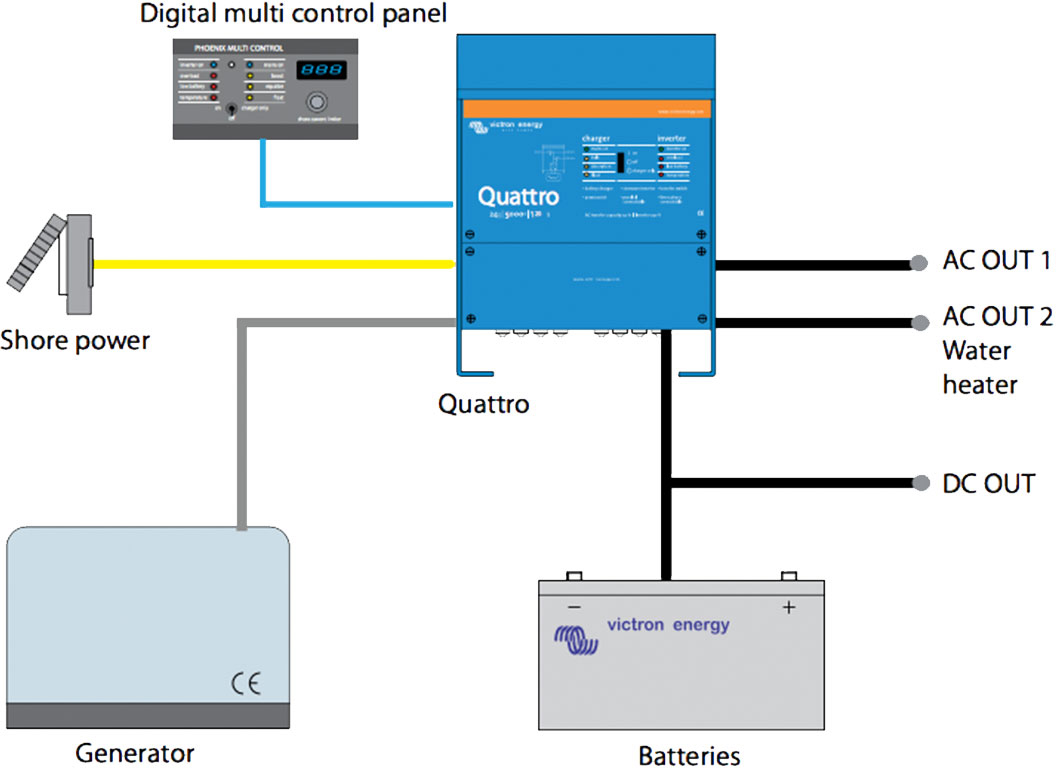 Quattro Marine System with generator
The Quattro has the same functions as the MultiPlus, but with an extra addition: a transfer system which can be directly connected to shore power and a generator.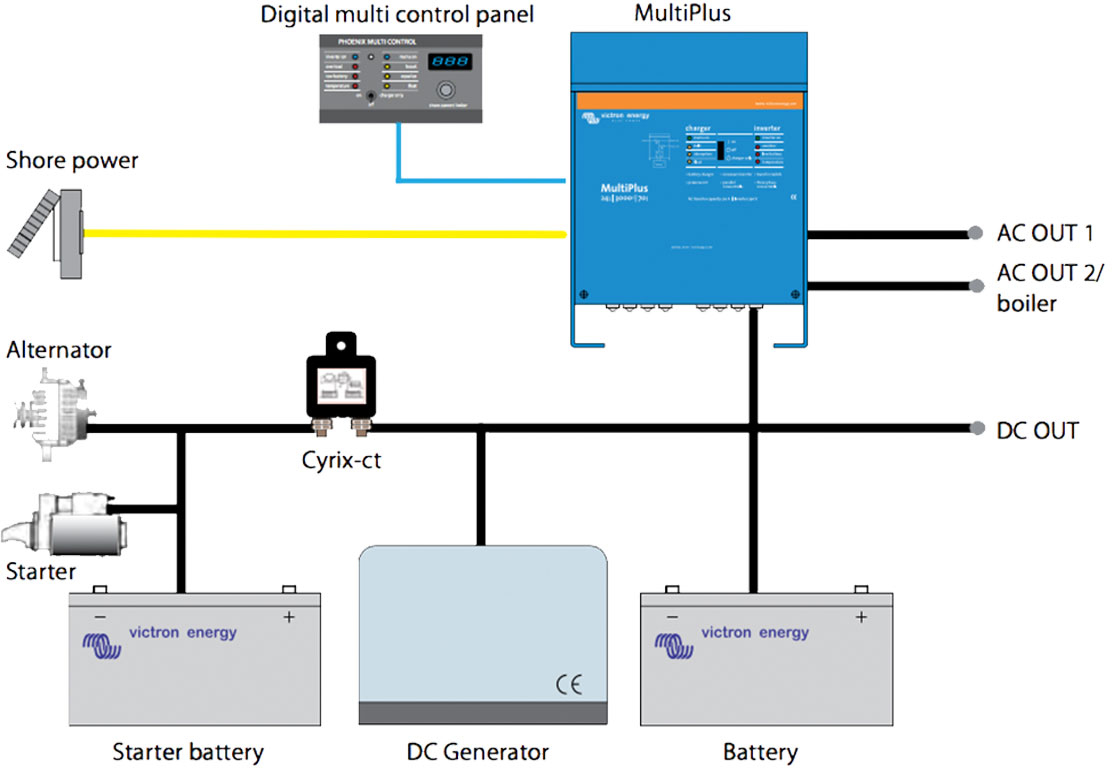 Marine System using an AC Generator
This system example is based on a Quattro, which forms the heart of the system. Depending on how high the demand for power is, the Quattro will choose between battery- shore- and generator power.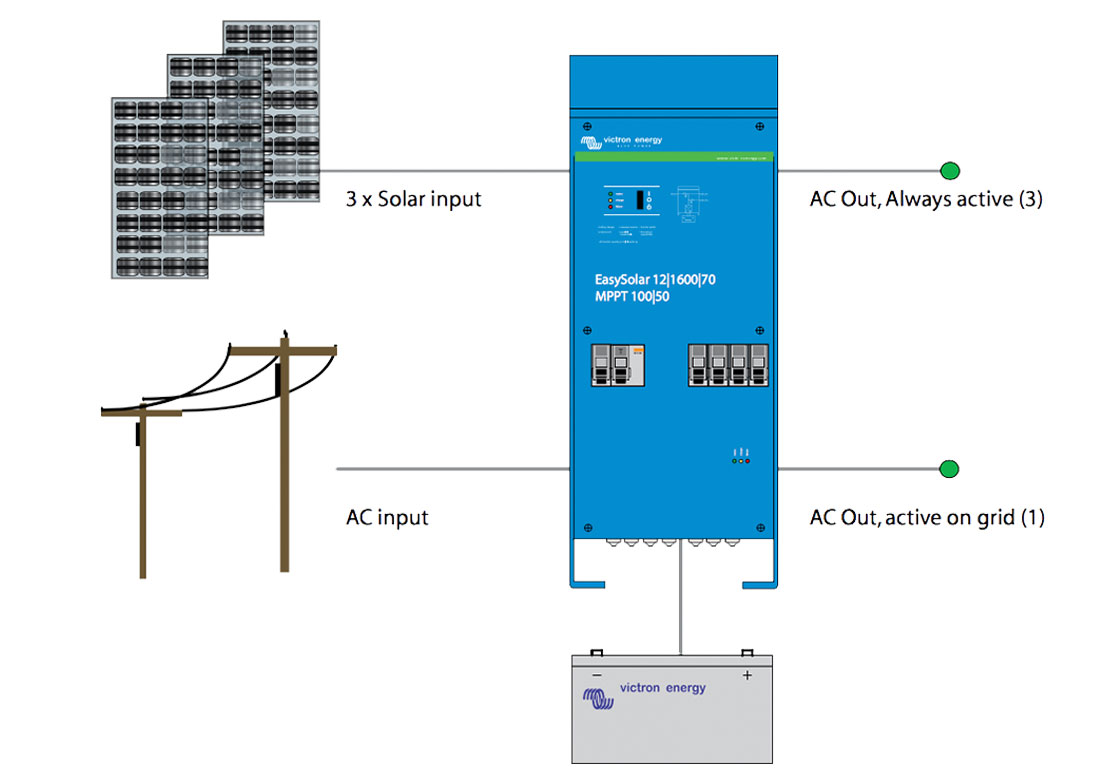 EasySolar: The all-in-one solar power solution
EasySolar takes power solutions one stage further; by combining an Ultra-fast BlueSolar charge controller (MPPT), an inverter/ charger and AC distribution all in one enclosure. With an extensive reduction in wiring, EasySolar provides ease of use combined with a maximum return on investment. When using the 24V model, it is possible to use up to 1400 Watt of solar power and with 1600VA continuous inverter power, even peaks of 3000 Watt can be handled without any problems.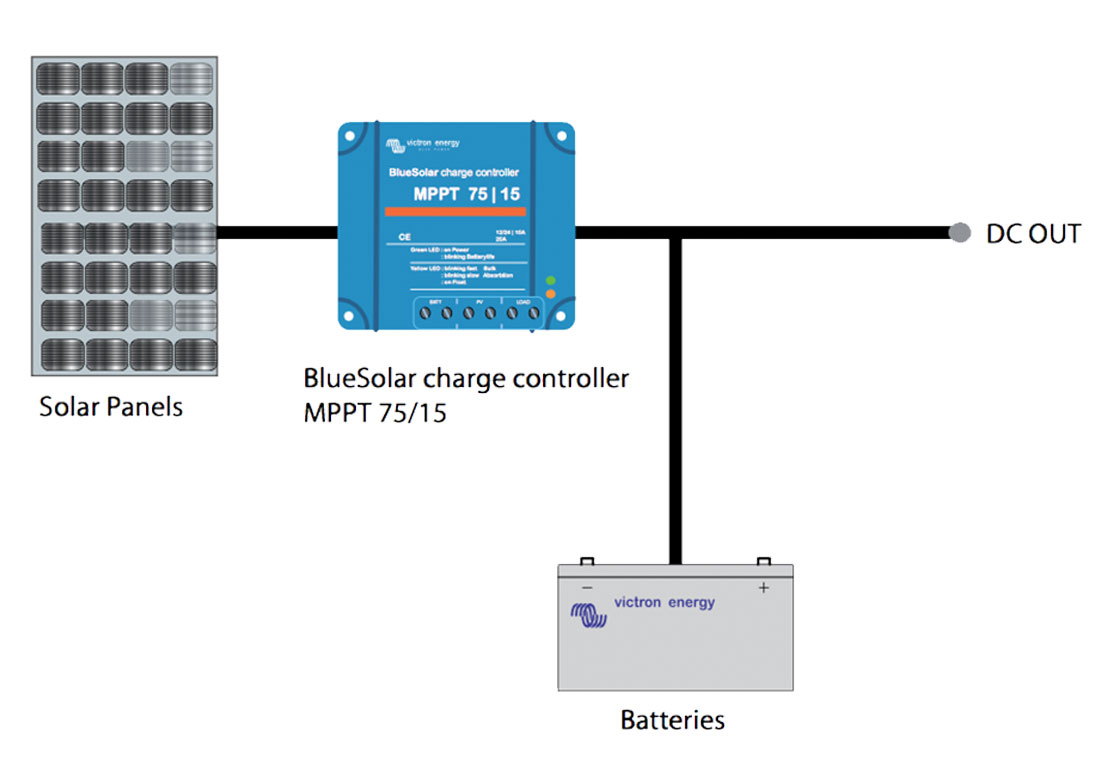 DC Systems
In DC systems solar energy is converted into regulated DC. Consequently the regulated DC is fed to the batteries and consumers. An inverter powers any AC consumers that are connected to the DC system. Unlike in DC systems, solar power is directly converted into AC in AC systems.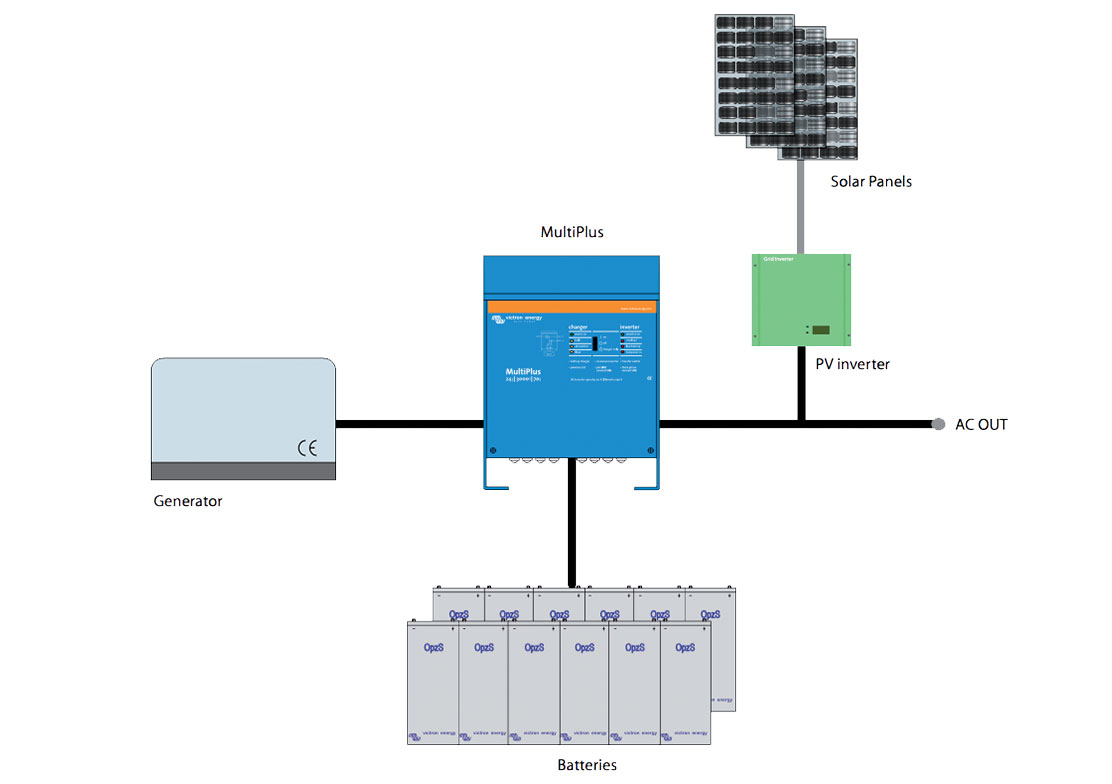 AC Systems
For larger solar systems that generally supply to AC consumers, it is more e cient to immediately invert the solar power into AC. Therefore we call these systems "AC systems". AC systems have a higher energy e ciency in comparison to DC systems. The PV inverter directly converts the solar energy into AC. This inverter requires 'grid', which is provided for by a MultiPlus or Quattro. All excess solar power which isn't used by the AC consumers is used to charge the batteries.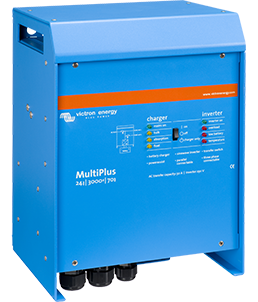 About Victron
Supporting different marine systems
Marine systems are comprised of various components
VictronConnect lets you get live status info and configure Victron products with built-in bluetooth support
Victron Instruction videos on Victron youtube channel
Summary of Victron Range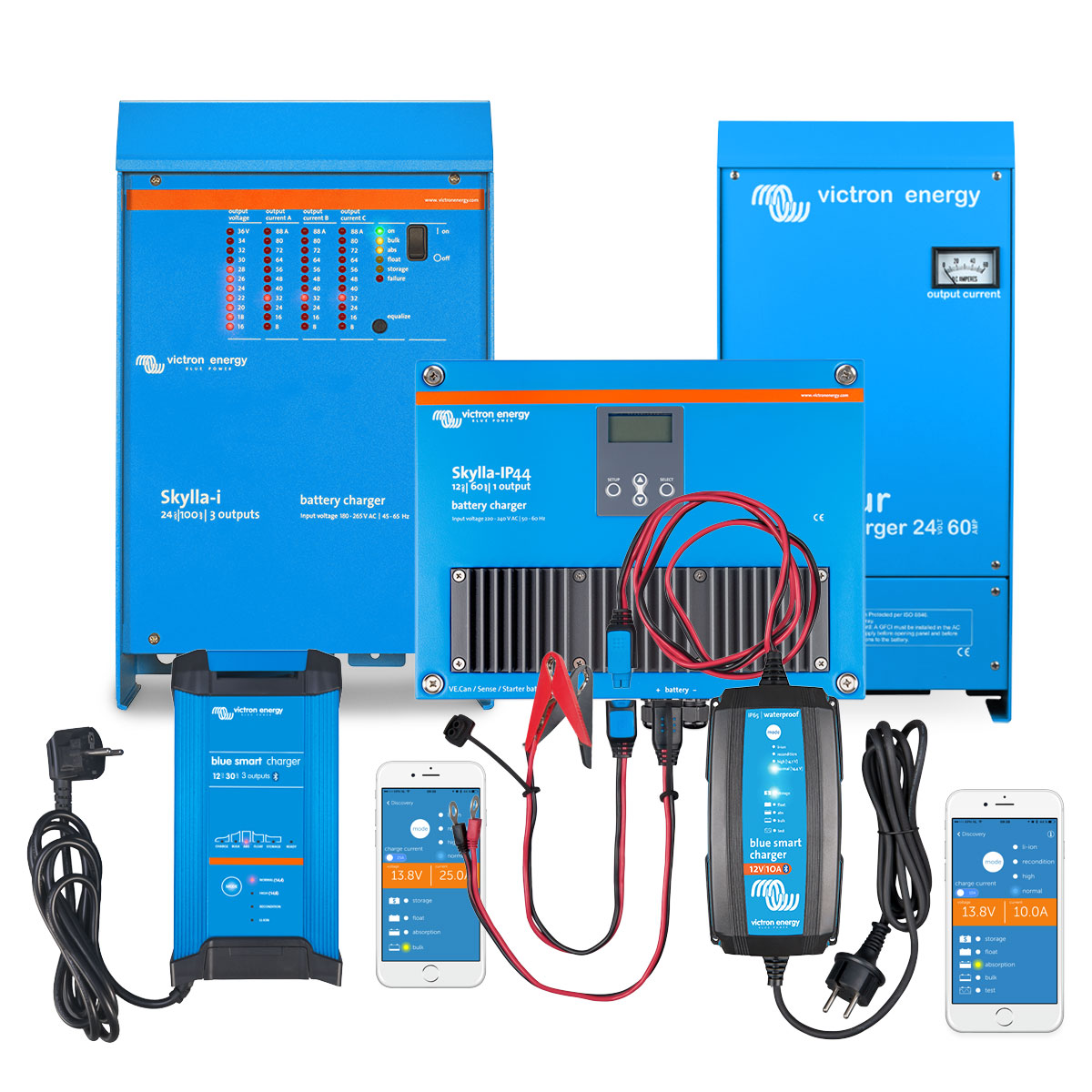 Victron Chargers
Victron offer a range of battery chargers which offer different charging capabilities. Making them the perfect solution for both marine and off-grid systems.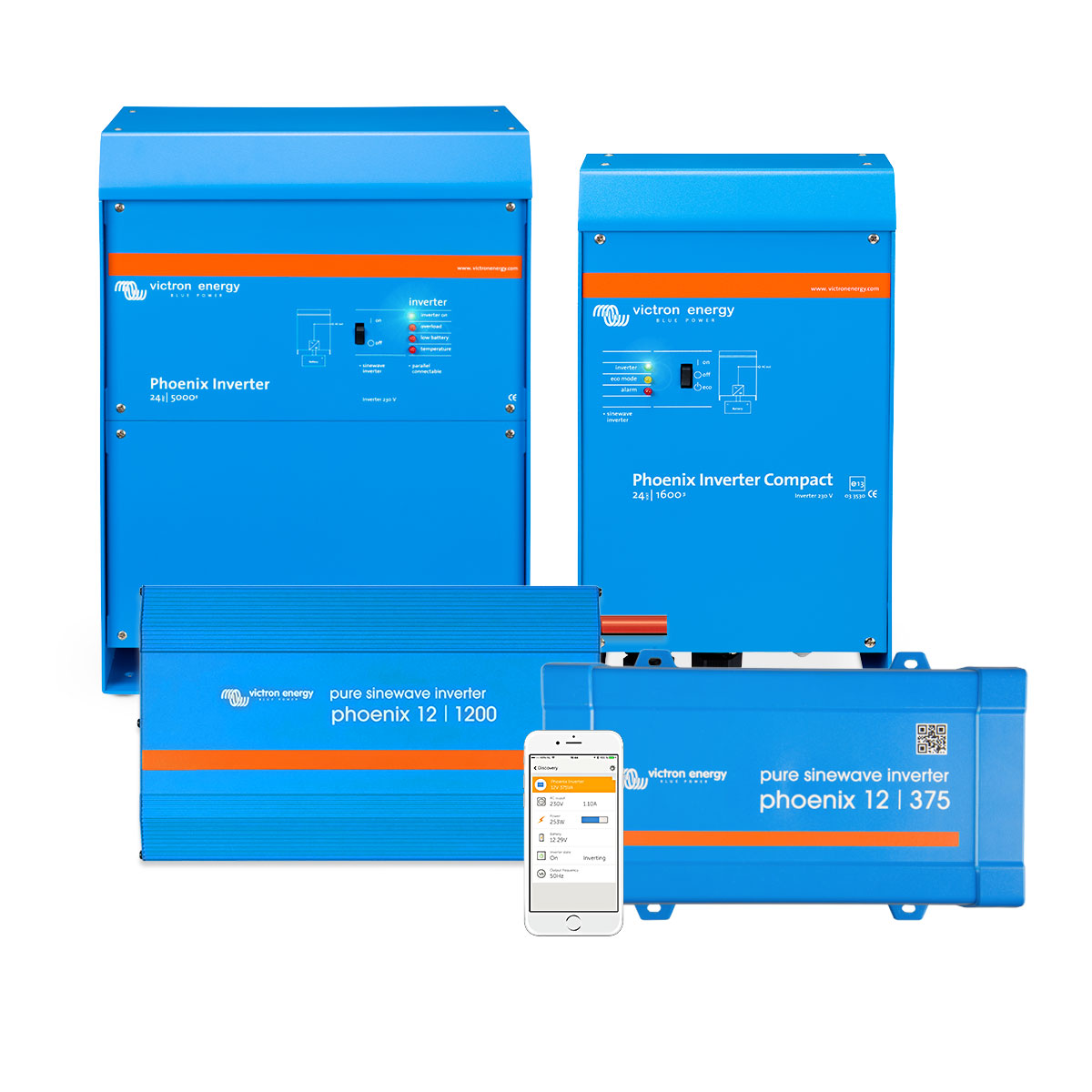 Victron Inverters
Developed for professional duty, the inverter range of inverters is suitable for the widest range of applications. The design criteria have been to produce a true sine wave inverter with optimised efficiency but without compromise in performance. Employing hybrid HF technology, the result is a top quality product with compact dimensions, light in weight and capable of supplying power, problem free, to any load.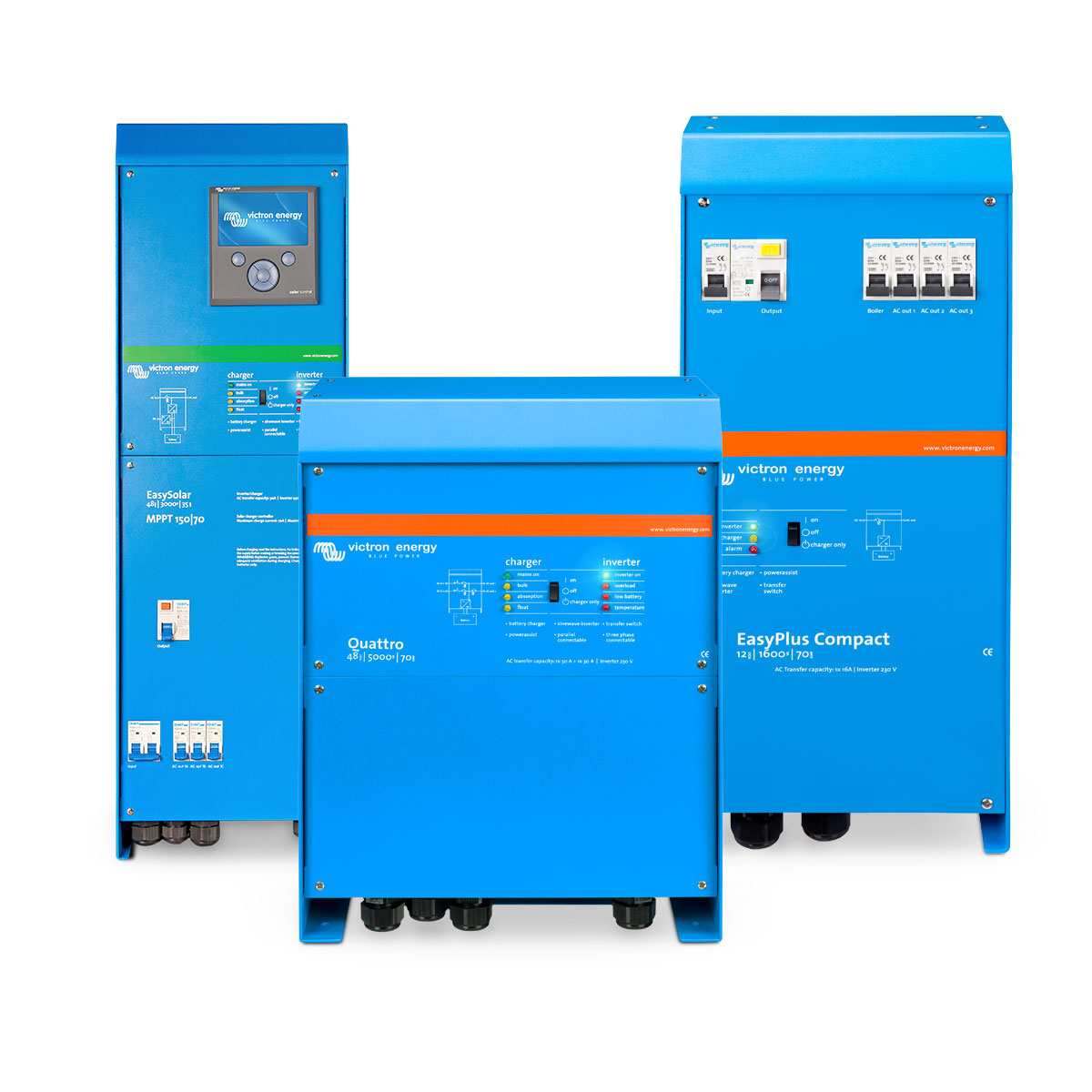 Victron's Inverter/chargers
The Inverter/chargers, as the name suggests, is a combined inverter and charger in one elegant package. Its many features include a true sine wave inverter, adaptive charging, hybrid PowerAssist technology, plus multiple system integration features.
About Victron Energy
Victron Energy is a Dutch company founded in 1975. Its core business is the manufacture of chargers and inverters, with production in the far east, India, Malaysia and Sweden. Victron are probably the best known and trusted manufacturer of chargers, inverters, on-grid and off-grid power solutions and Shield are proud to partner with Victron in this exciting area of energy management.