Crown
Known as the "power behind performance", Crown batteries are manufactured to meet the needs of the industrial, commercial, marine and automotive industries. With a focus on producing the very best batteries available, Crown batteries are designed to work better and last longer. As a company they have the highest quality and service rating in the industry and we're proud to stock their products here at Shield. Founded in 1926, Crown Batteries have continuously responded to the power challenges of industry leaders, and produce the best available battery products in the field. With a company-wide dedication to quality control and continual improvement, Crown batteries have invested in high-performance designs and modern manufacturing facilities which consistently deliver best-available performance, reliability and return on investment.
Summary of Crown Range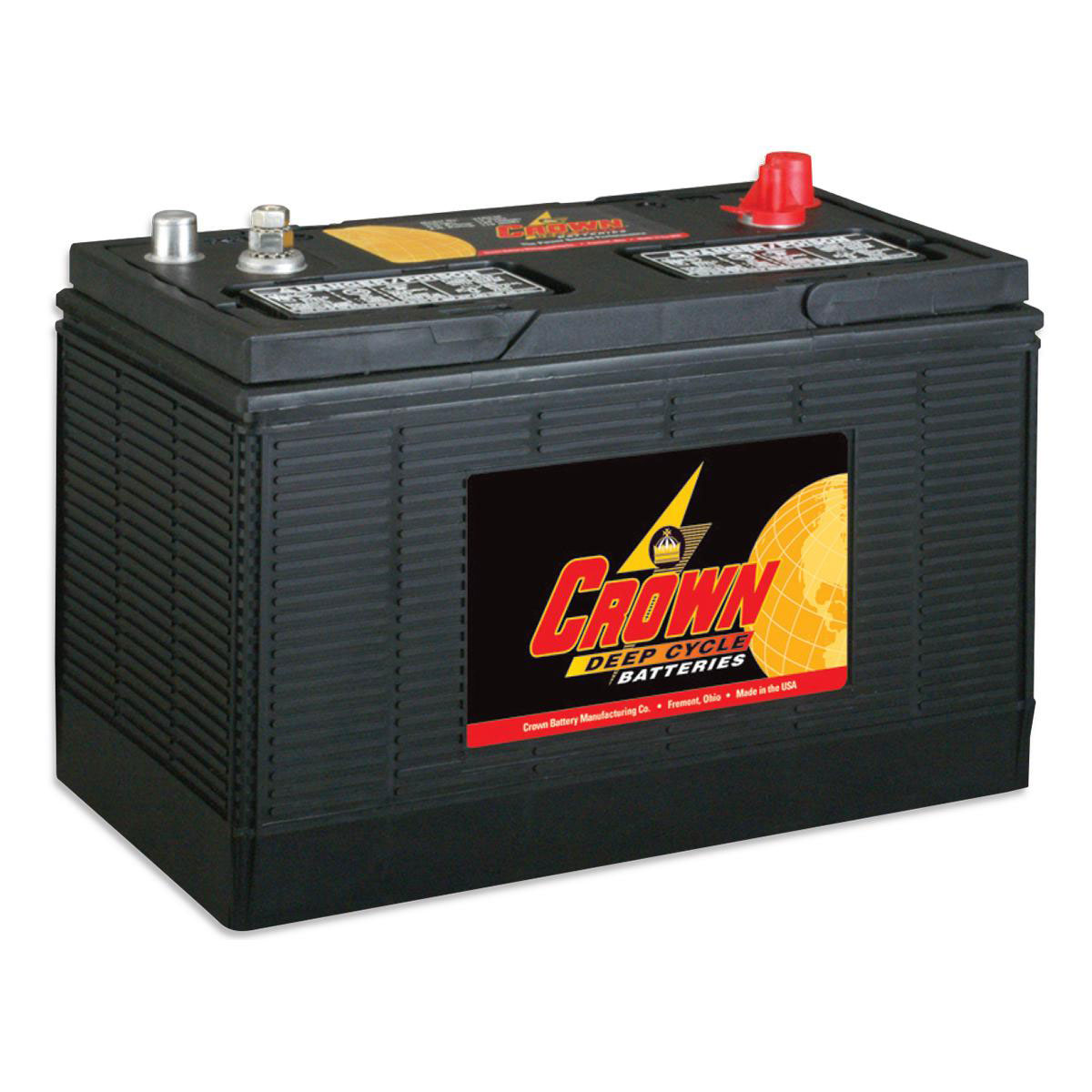 Crown Deep Cycle Batteries
Crown's modern one-piece solid-cast design provides a lower internal resistance so charging and discharging are optimum, providing a longer battery life. Dense TBLS (tetra-basic lead sulphate) crystal content in the positive plate ensures more resistance to breakdown for longer life and consistent performance.
Crown's Quality System is ISO-9001:2008 certified, meaning they have the capability to design, develop and build best-available battery products that work better and last longer. Crown Battery's quality system identifies key metrics such as customer satisfaction, process management and process results analysis to drive continuous improvement.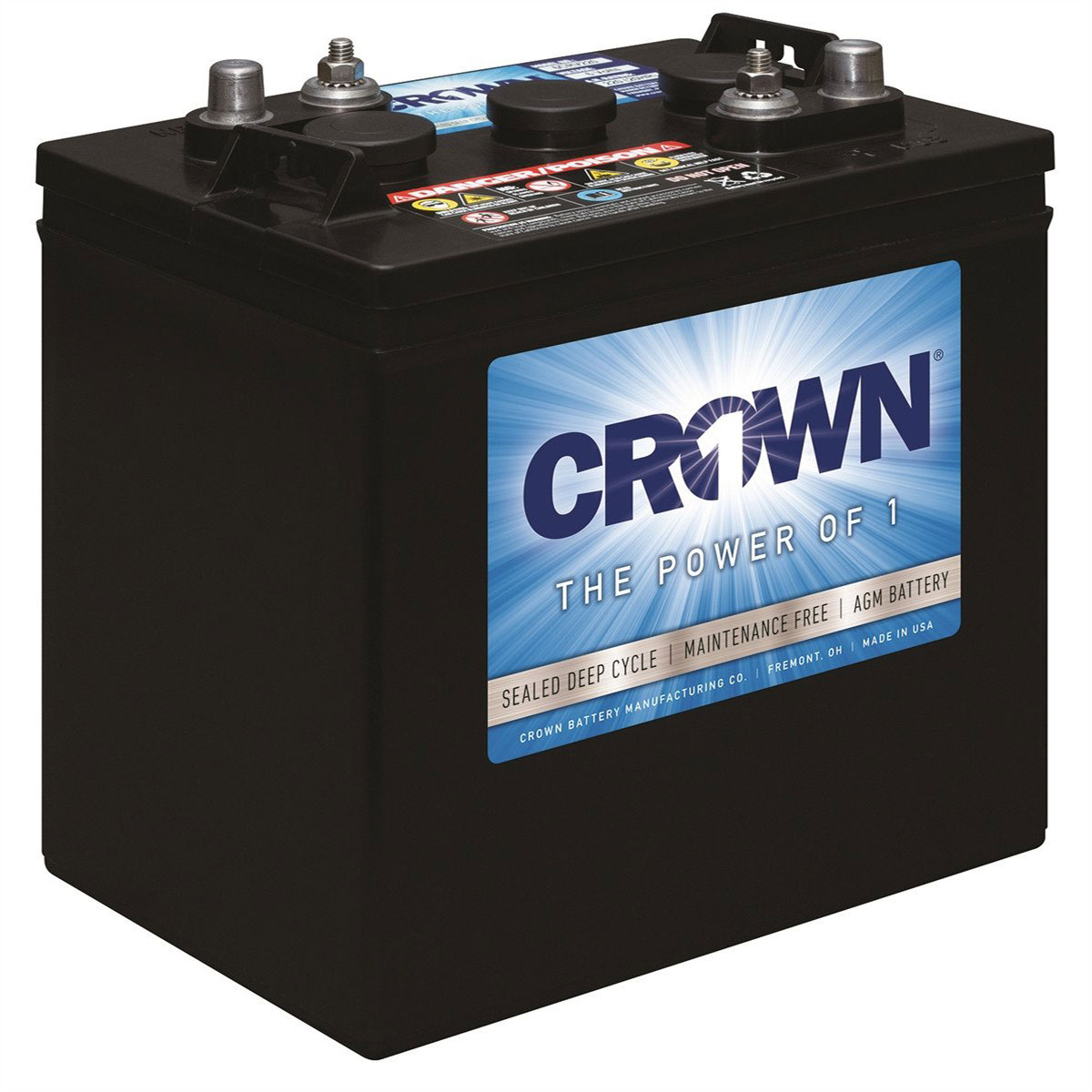 Crown1
Crown1 is a sealed deep-cycle AGM battery which boasts a robust design which tolerates deep discharge and maximum safety due to the sealed, spill-proof design which is easy to deploy. This maintenance free battery has a dual terminal design which ensures multiple application fulfilment. Crown1 has a thicker plate construction with more active materials and an inset plate which delivers longer discharge times and an increased tolerance for deep-cycle service leading to an increased performance in comparison to flooded batteries.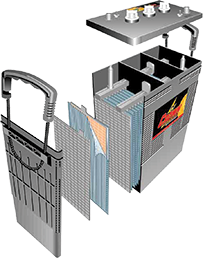 Uncompromising Battery Construction
PROeye™ - No mess, no guess system for inspecting electrolyte levels that signals when watering is required.
Rigid Connectors - Heavy-duty TTP, COS and Post connectors deliver maximum electrical efficiency and durability.
X-TEND Container Design - X-Tend provides more electrolyte above the battery plates so batteries can perform longer between watering intervals, lowering preventive maintenance costs and improving overall ROI on your Crown Battery purchase.
Posi-Wrap™ Envelope Separators - Posi-Wrap Separators reduce maintenance and prevent failure due to short-circuiting and plate shredding, ensuring reliability and durability.
Z3 Plate Construction - Crown's Z3 design combines three integrated features for superior performance and durability. Our signature "Diamond Z" grid architecture – An inset lug position – Our revolutionary "LifePlus™" active paste material
Heat-sealed Case and Cover Design
Crown- More Power and Longer Life
Crown's 6 volt, 8 volt and 12 volt batteries are specifically designed for heavy duty, severe duty or deep cycle applications with what is claimed to be the heaviest, thickest plates in the industry. Thicker plates, heavier lead connections and the most active lead material per ampere hour of rated capacity. All this means more power and a longer life.
Extended Battery Life
Crown also claim that their in-line solid cast construction offers less internal electrical resistance than the competition, which means that the current produced has to work less hard, which means extended battery life.
Applications
Crown's deep cycle batteries are suitable for a huge range of applications, including Leisure, Marine, Caravans, Camping, Golf, Plant, Access, Floor Cleaners, Mobility, Traffic Management, Handling, Horticulture, Agriculture and many more.