How it works
The principle of Shield Battery's recycling service is straightforward; we will provide you with one or more containers, Battery Banks, to store your waste batteries safely as they arise. When the container is nearly full, you simply contact Shield Batteries, and we will arrange to remove the full bin and leave an empty one in its place. It is important that you monitor your Battery Bank to ensure you give us adequate notice to plan your collection, rather than waiting for it to be filled before calling us.
Battery Recyling Brochure to Download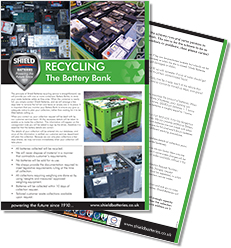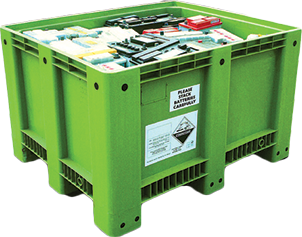 Our service to you
All batteries collected will be recycled.
No batteries will be sold for re-use.
We always provide the documentation required to meet legislative requirements ruling at the time of collection.
All collections requiring weighing are done so by using 'weights and measures' approved weighing equipment.
Batteries will be collected within 10 days of collection request.
Tailored customer waste collections avaiable upon request.
We will never dispose of material in a manner that contradicts customer's requirements.