Industrial Batteries
As a producer of industrial batteries under the Waste Batteries and Accumulators Regulations 2009, we Shield Batteries Ltd produce lead acid industrial batteries. We are obliged to take back free of charge, waste industrial batteries supplied to an end user for treatment and recycling. We are required to do this in any calendar year we place new industrial batteries on the market. If any of our customers or in certain cases other end users, require us to take back Industrial batteries, they should contact us at:-
Shield Batteries Ltd
277 Stansted Road, Bishops Stortford,
Hertfordshire
CM23 2BT
Tel:- 01279 652067
info@shieldbatteries.co.uk

We will agree the necessary arrangements for the return, proper treatment and recycling of the waste industrial batteries.
Automotive batteries
As a producer of automotive batteries under the Waste Batteries and Accumulators Regulations 2009, we Shield Batteries Ltd are obliged to collect, free of charge and within a reasonable time, waste automotive batteries for treatment and recycling from final holders e.g. garages, scrap yards, end-of-life vehicle Authorised Treatment Facilities, Civic Amenity Sites, etc. We are required to do this in any calendar year we place new automotive batteries on the market. If you require us to take back any automotive batteries, please contact us at:-
Shield Batteries Ltd
277 Stansted Road, Bishops Stortford,
Hertfordshire
CM23 2BT
Tel:- 01279 652067
info@shieldbatteries.co.uk

We will agree the necessary arrangements for the collection, proper treatment and recycling of the waste automotive batteries.
How it works
The principle of Shield Battery's recycling service is straightforward; we will provide you with one or more containers, Battery Banks, to store your waste batteries safely as they arise. When the container is nearly full, you simply contact Shield Batteries, and we will arrange to remove the full bin and leave an empty one in its place. It is important that you monitor your Battery Bank to ensure you give us adequate notice to plan your collection, rather than waiting for it to be filled before calling us.
Battery Recycling Brochure to Download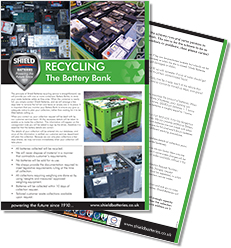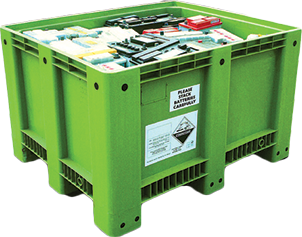 Our service to you
All batteries collected will be recycled.
No batteries will be sold for re-use.
We always provide the documentation required to meet legislative requirements ruling at the time of collection.
All collections requiring weighing are done so by using 'weights and measures' approved weighing equipment.
Batteries will be collected within 10 days of collection request.
Tailored customer waste collections avaiable upon request.
We will never dispose of material in a manner that contradicts customer's requirements.